Joined

Nov 2, 2018
Messages

630
Reaction score

213
My raised beds were built over 5 months starting back in July using 75mm x 200mm Sienna Sleepers and Steel posts mostly .
Hired a one man mechanical post hole digger to make the holes for my steel corner, end and joiner posts, and timber f4 grade posts ( had 33 of them to set in concrete , all the holes dug in one weekend ( 3 days ).
Filled with excavator fill (sufficient to allow good soil on top at least 20cm deep) & and bits of broken up old footpath ( from my shed upgrade and driveway extension ) and topped with premium garden soil ( delivered in 16 bulkabags in November + a loose 2 cu m delivery in early January).
Hired a tilt tray 4x4 ute to move the soil from my green strip down my driveway to the backyard.
My beds
> 6m x 3m , in 2 levels , avg depth 0.6m at front of house , will be my wifes pretty bed.
> 6m x 1.5m (avg depth 0.8m , doubles as a retainimg wall) x with a full length 1.2m tall privacy lattice work screen at my back fence ( will put fruit & berry trees in this ).
> three x 3m x 1.5m x 0.4m beds , will grow greens, herbs, berries, veggies in these.
Was planning 4 of these but I want room for a garden shed , a big off ground deck at back of house and my roll off roof observatory.
> Hockeystick shaped 2 level bed one level 3m x 1.5 x avg depth 0.6m + 3m x 1.2m avg depth 0.3m + lower level 3m x 0.5m x 0.3m deep nearest garage . This was made enterly form timber and doubles as retaining wall ( hiding a very dangerous cliff about 0.8m high left by the idiot excavator contractor ) and my wife want pretty ground cover in this ( will be putting some low bushtucker ground cover plants in this and some of this ( strawberries , Pig Face , Karkalla , CREEPING / BERRY SALTBUSH , WARRIGAL GREENS , and a few others that I can't remember names off at this moment.
Was not worth planting the beds up til February , as we were under Level 2 water restrictions . no point planting stuff that will just wither and die of thirst, so I left the beds full of soil and fallow. Waiting for the rain to return.
So along came Covid19 and suddenly people started panic buying and even vegs and basic meats vanished off the shelves along with dunny paper, paper towels, batteries, and lots of other basic items.
Decided it would be
1) very good to become more self sufficient with veg and herbs
2) a very good excuse for accelerating getting the beds productive NOW
I've wanted to pick up veg and herb gardening as hobby + organically home grown food always tastes much nicer than shop bought , so I got my nephew involved in my microfarming project ( going 1/2 and 1/2 plant / seed costs and he'll do some weeding , and we'll go equal shares on the produce )
But I missed my chance to get some starter seedlings ( all gone everywhere and still hard to find ). Bummer.
No seedlings for herbs, vegs, greens anywhere, so I opted to start from seeds and cuttings .
Bought a bunch of winter and summer variety veg and herb seeds (enough to get my nephew who has 2 kids and helps his mum in law out with meals) and us ( just me and my wife) mostly pretty self sufficient in veg , greens and herbs in a few months from sowing .
We like the idea of saving money too, so eventually I expect my investment the beds will pay off and keep on paying for themselves for many years ( rest of my wife and my lives ) my son will have a great asset when he inherits .
Plus our grandson loves berries & fruits , so more incentive for him visit granny and pop.
Bought 8 worm bombs to get the beds ready ( 1000 eggs per bomb ). Bombed a few weeks ago.
Here are my gardening results so far ( MY BABIES !!! ) .
So here are my babies now ( all sowed as seeds 20 April ).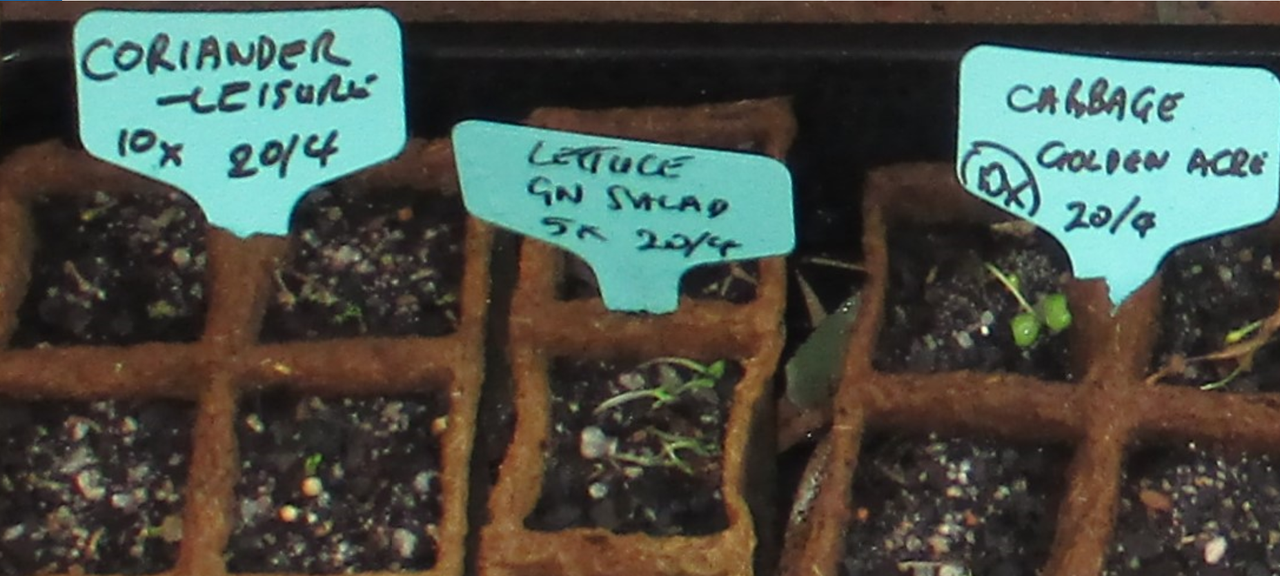 Coriander finally sprouting , lettuce and cabbage seedlings.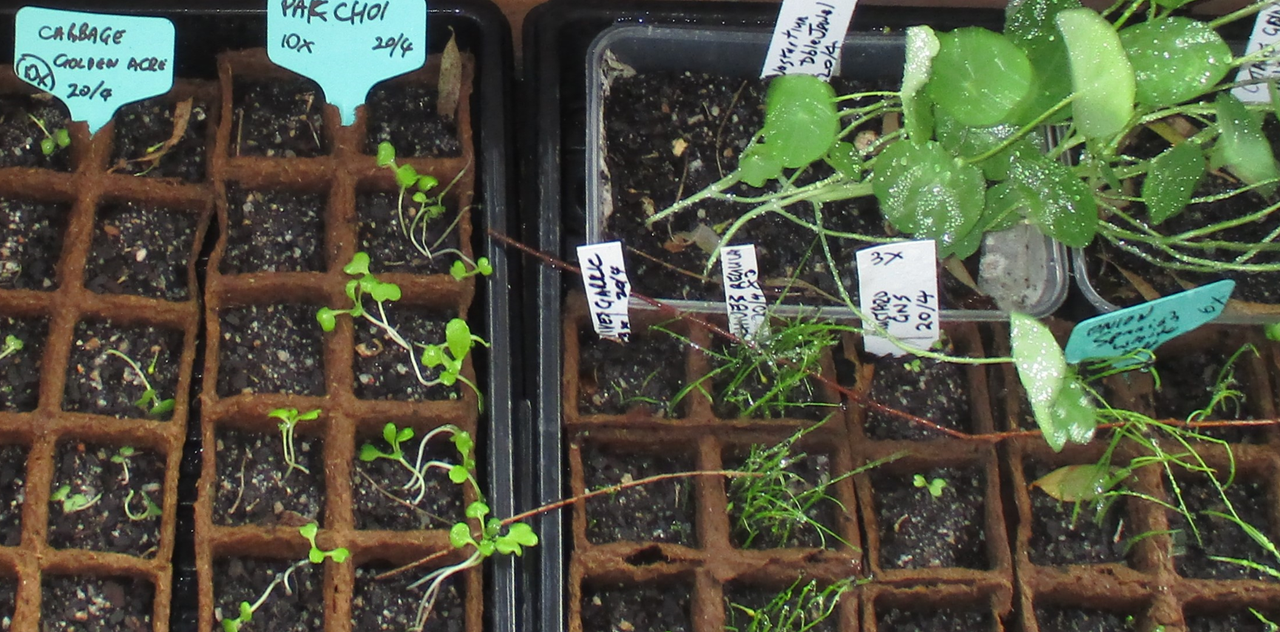 Pak choi , chives ( regular and garlic ) coming on OK , nasturtium is going crazy.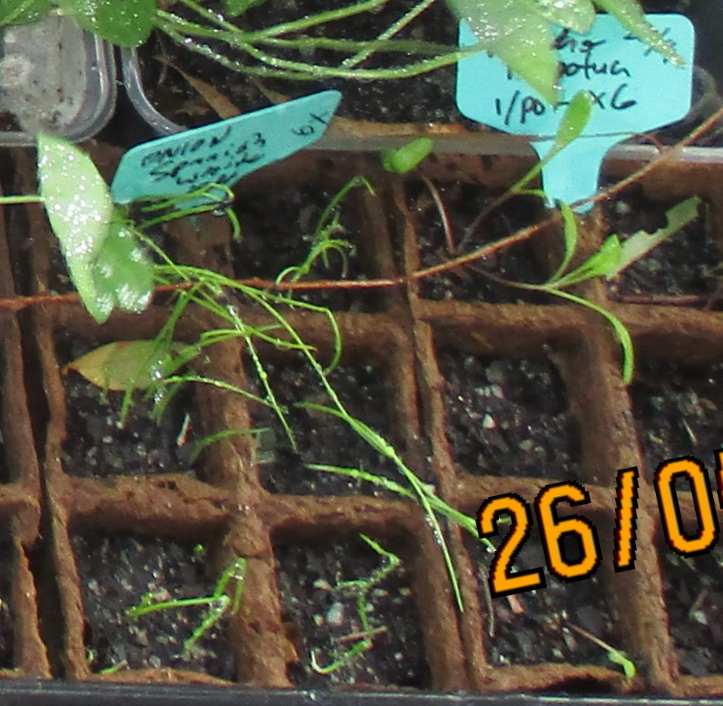 Spanish onion and perpetual spinage are going well.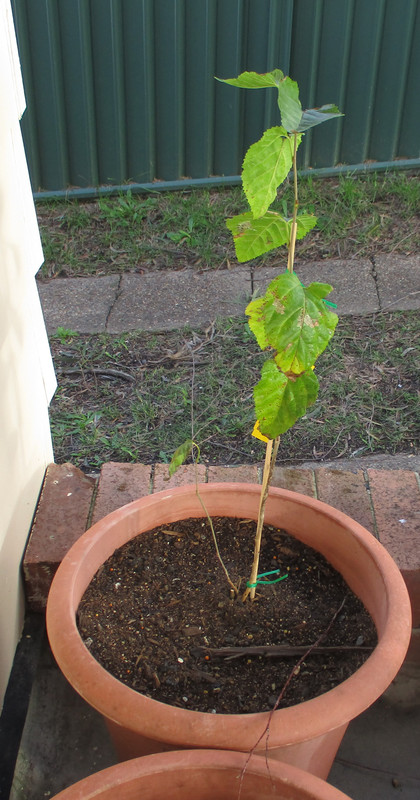 Mulberry is battered but still has leaves .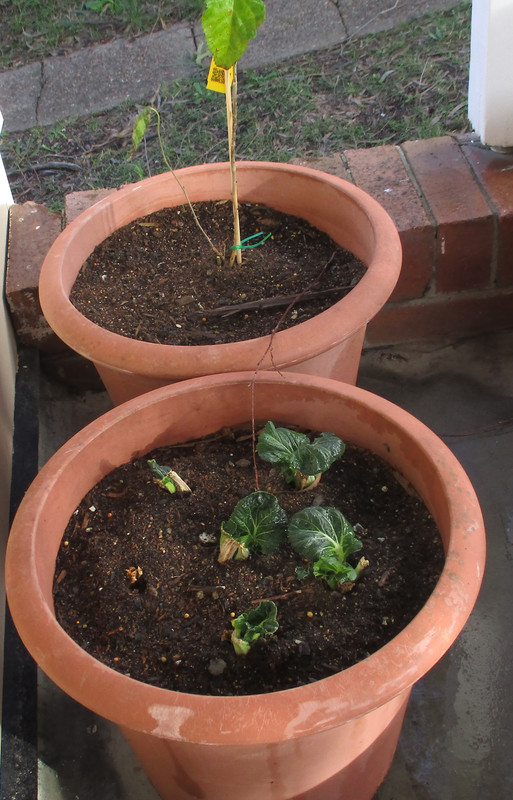 Bok choy cuttings are going great.
Did a chicken honey soy stirfry using some chicken breasts slices and chopped , so decided to do an experiment with some spring onion cuttings.
( That's a Finger Lime Caviar bottle ).
No sign of growth yet for my leek cuttings ( put in water for a few weeks , the planted , no new green yet but not rotting away either .
The sweet potatoes ( put in water to sprout a few weeks ago ) , nothing happening yet.
[doublepost=1590509519,1590509012][/doublepost]
How I arranged my beds in the backyard .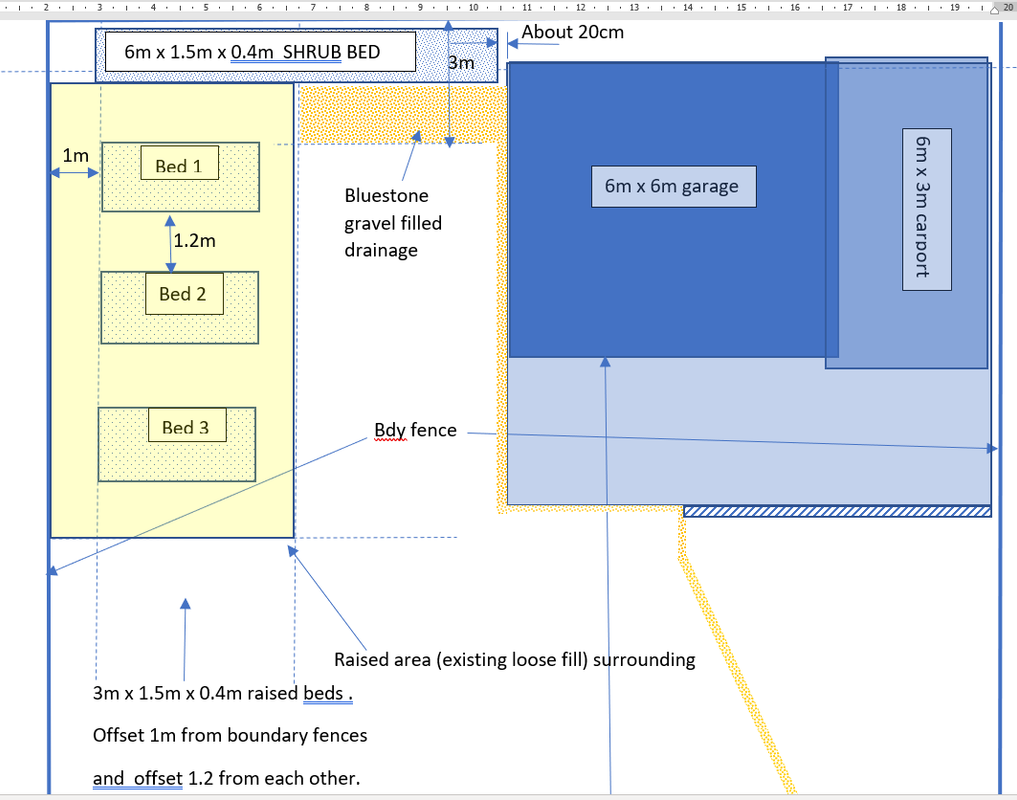 The 6m x 1.5m bed / retaining wall .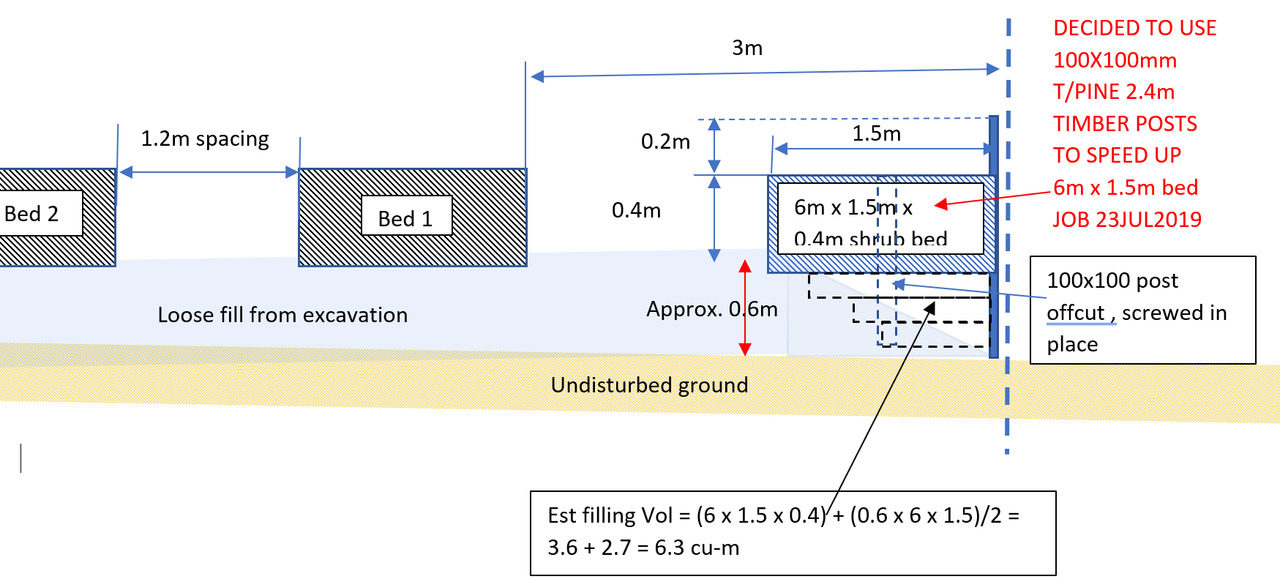 The four 1.5m wide beds are actually on a sloping ground , so each bed is approx. 5cm lower than bed above it ( closer to the house ). I used a laser to line up all my posts perfectly before the quikset concrete started hardening , two posts at a time all double checked and then checked again to be sure ( was time consuming - but you have to get it right first go , is hard work to try to pull a post out and do the job again ( as I learnt when built my Sth bdry fence using square hollow tubes back in 2000 ).
The full length privacy screen
The hockey stick bed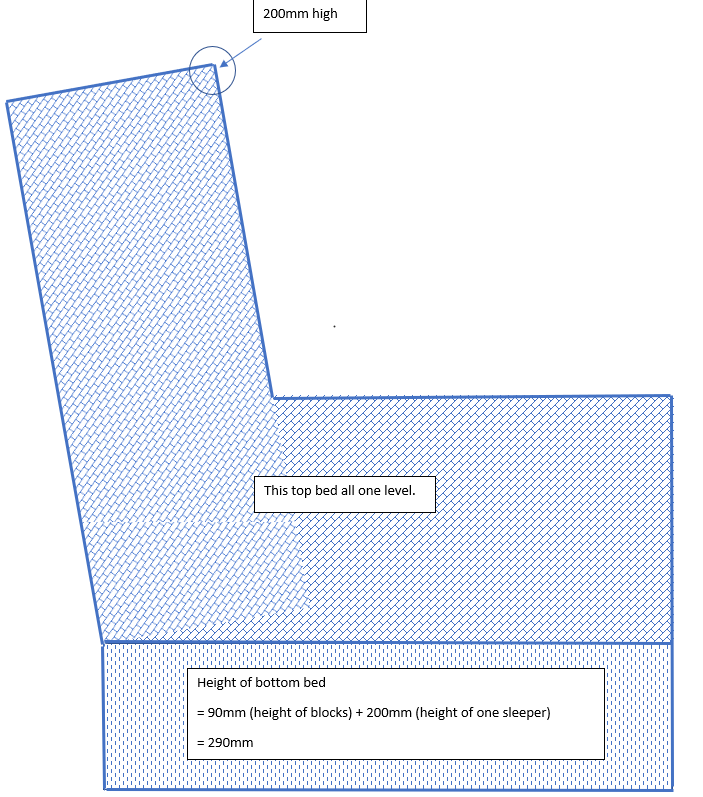 [doublepost=1590510237][/doublepost]
The monster feature raised garden bed at front of my house ( my neighbours thought I was doing a house extension til I started filling it with fill and then premium soil ) , everyone in the street loves it and cant wait to see it full of shrubs and pretty native plants ( will be all native and will become a bird and insect and lizard haven when it's all done , might take me a year or so to find the plants I want ( but wattle and banksias and a grass tree are on my list ), hopefully some will also be edible as well as pretty ( this will make the missus happy , and I'll enjoy getting some bush tucker too ).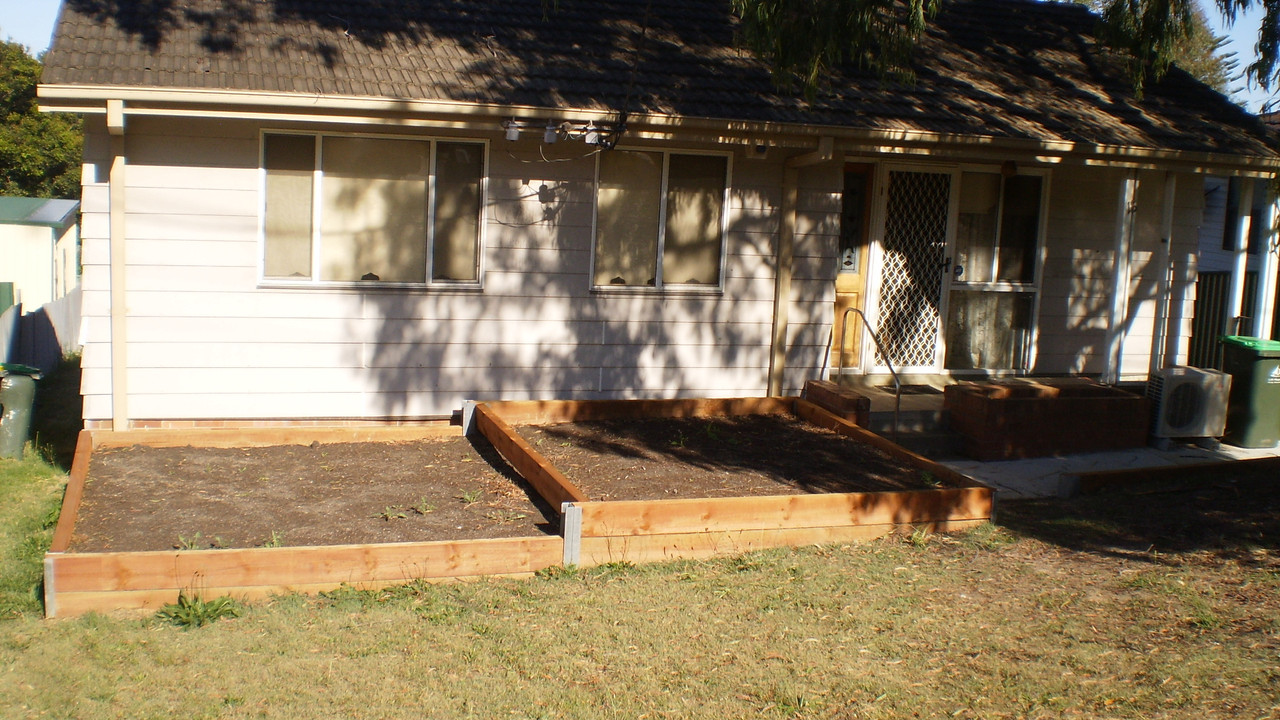 Is offset 20cm from the front of my house ( no I didn't make that common mistake that lets termites have access to house ). Just prior my big tree being trimmed and the exterior of the house was painted.
https://i.postimg.cc/vHbfsssT/IMG-0263.jpg
And After the house was painted and I added a top up with 2 cu-m of extra garden soil ( delivered in 2 bulkabags right next to the front of the bed at end February 2020 , took care of the compaction/settling of the fill and soil from July .
There is a wild eastern BT and several eastern water skinks who hang out around this bed already and seem to live in "that 20cm wide gap" . << already working nicely as a lizard habitat area even without any plants in it >>
Is now ready for my wife's pretty shrubs and ground covers , just a matter of deciding what she & I want and working out the bed's garden layout.
[doublepost=1590510612][/doublepost]
One of the small beds before being filled with fill then topped with premium garden soil.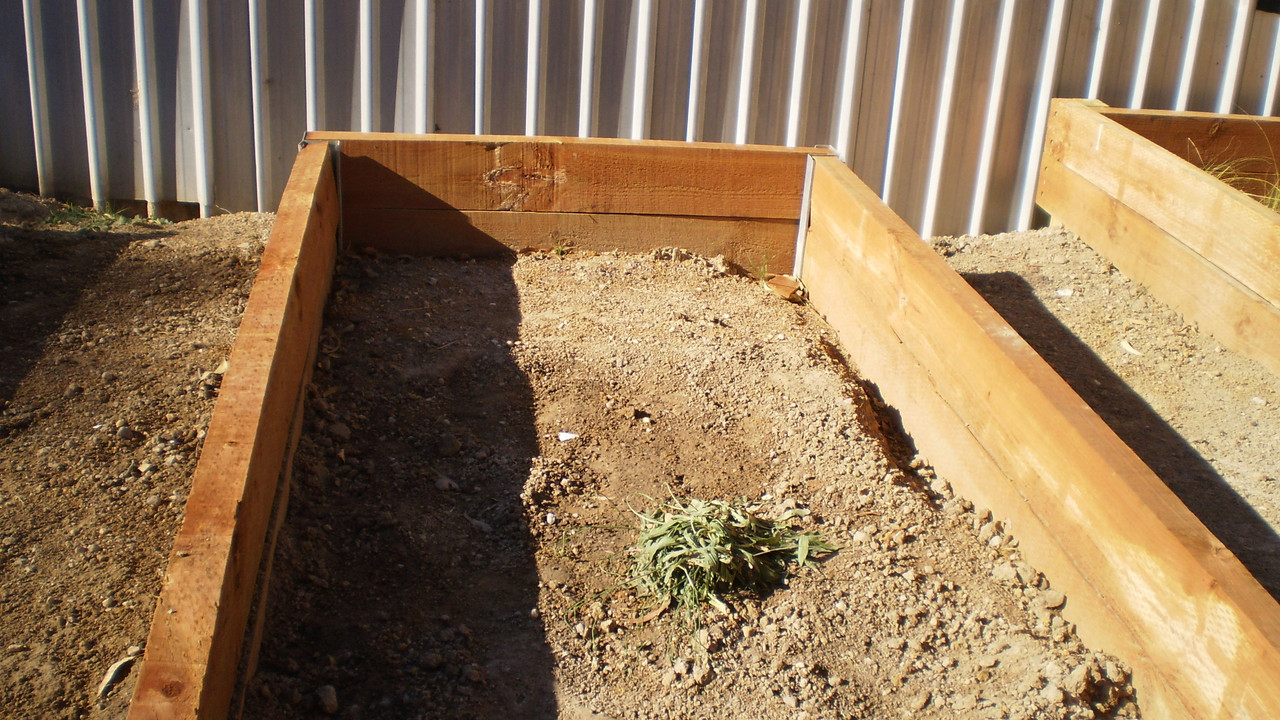 Waiting for the ground to dry after a big storm in November.
[doublepost=1590510867][/doublepost]The Hockey stick raised bed / retaining wall one issue I wanted to get rid off.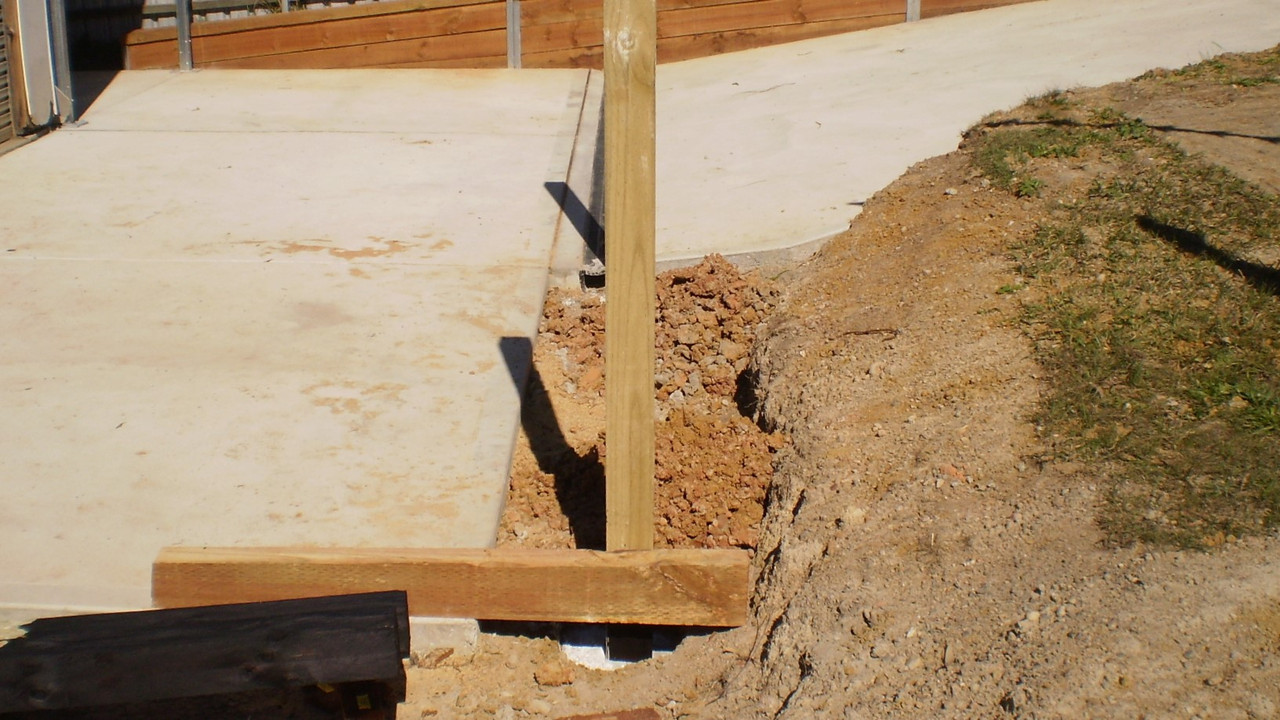 ( 100x100 F4 pine posts into ground in September )
A forest of posts in concrete , at this stage I hadn't decided how deep I wanted the hockey stick bed to be and was thinking of 3 levels rather than 2 levels , so since the posts are cheap , I didn't bother cutting them at this stage.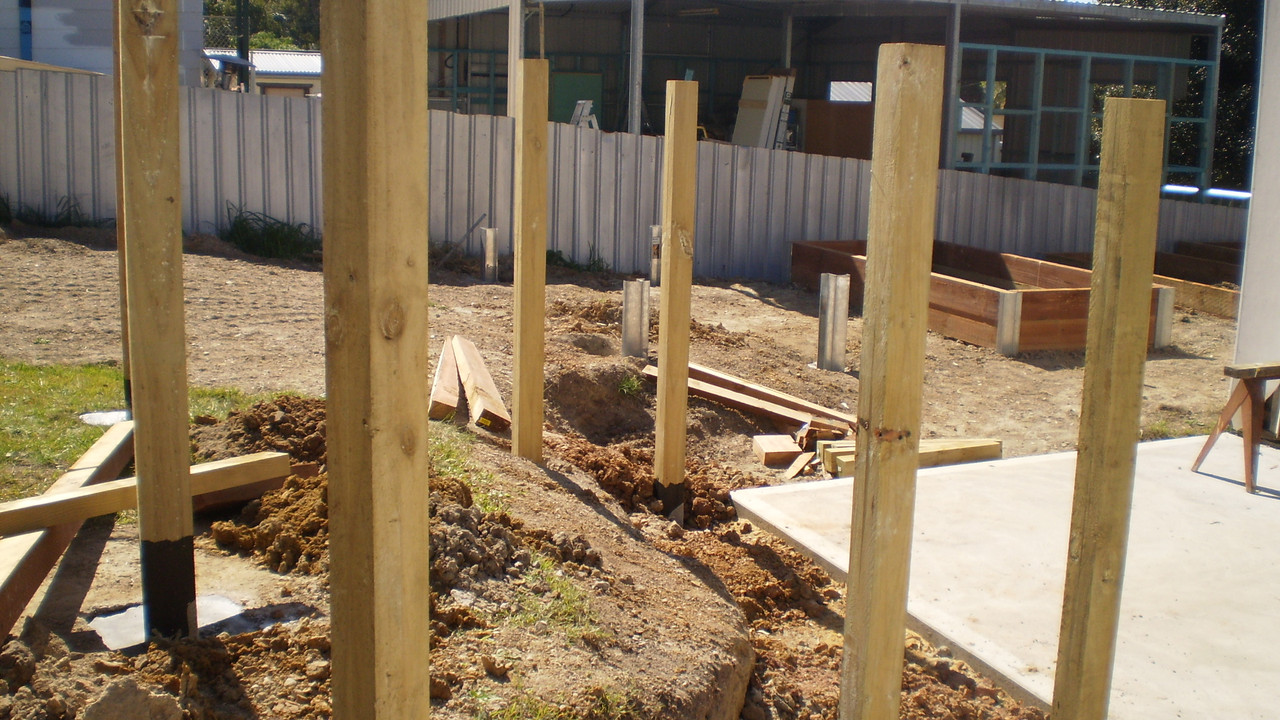 My neighbours thought I was building a deck to connect the house ( silly them ).
I had ideas for what I'd use the offcuts for and have used most of them to build benches and reinforce retaining walls and made some furnature with them ( so they weren't wasted ).
A couple months later - it's looking nice ( but hard work building it ).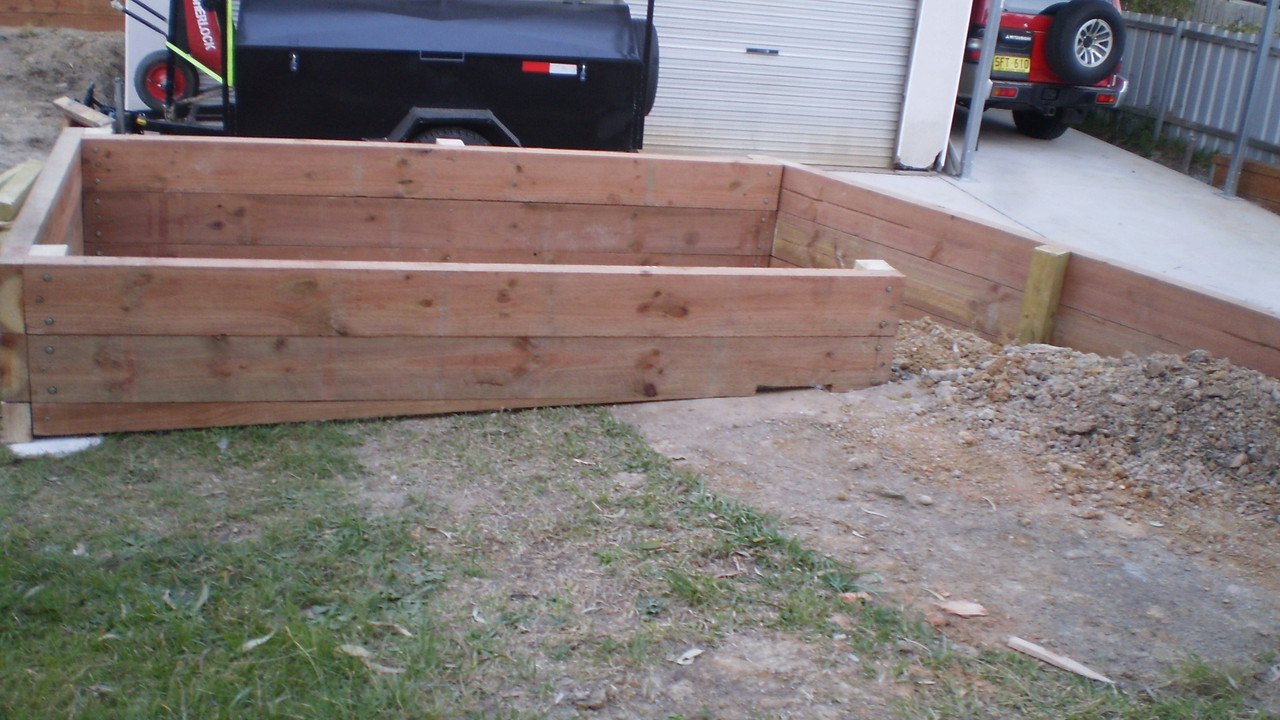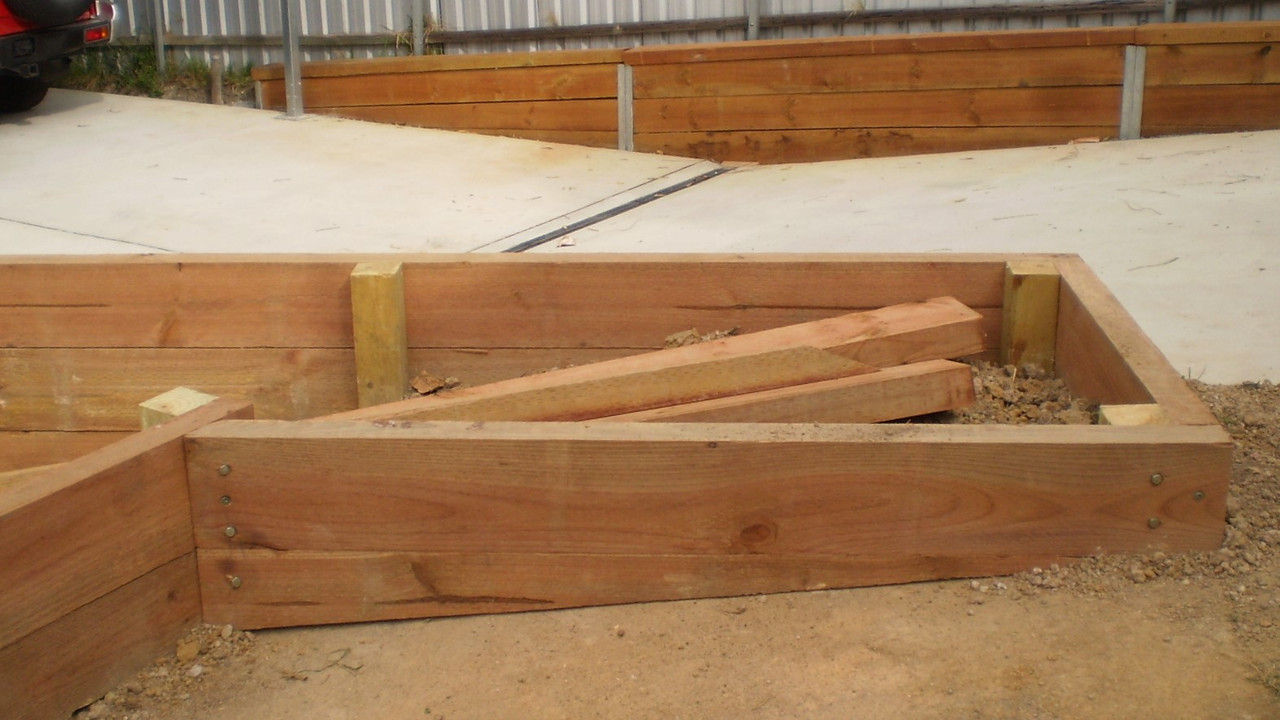 Like my spiffy sloping sleeper under fence retaining wall ?
...it fixed the issue of the big dig below fence line nicely .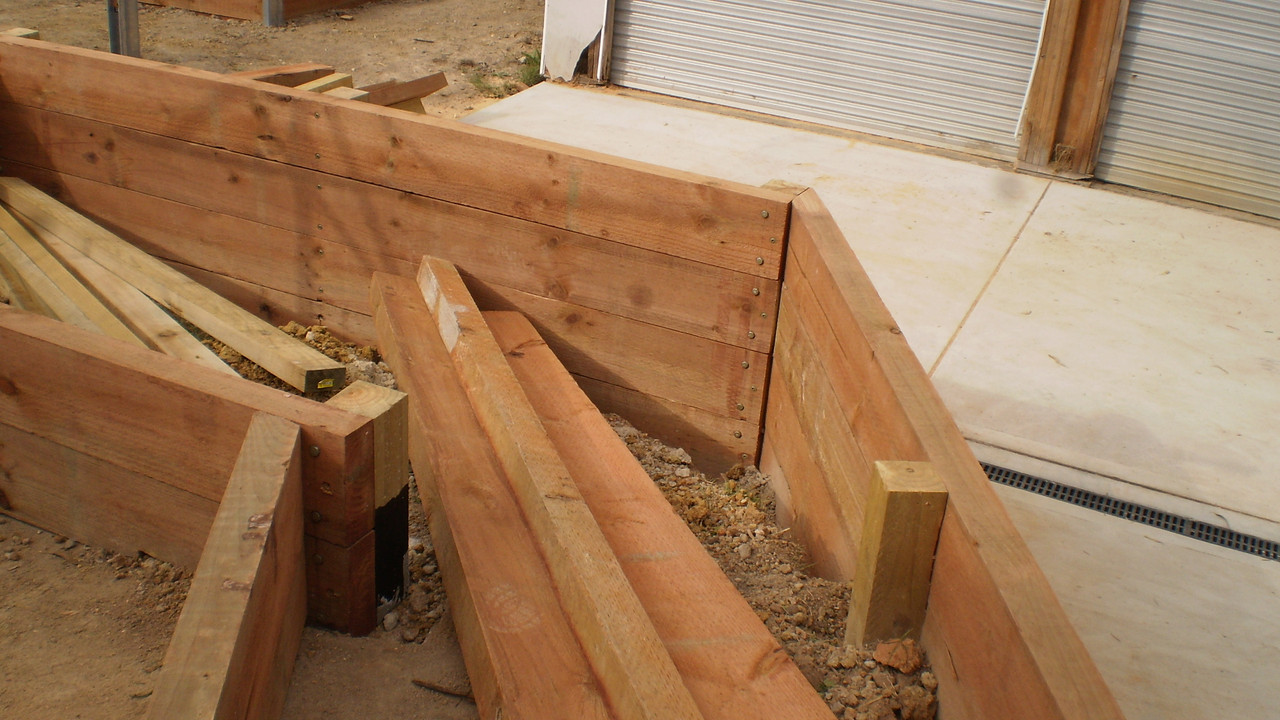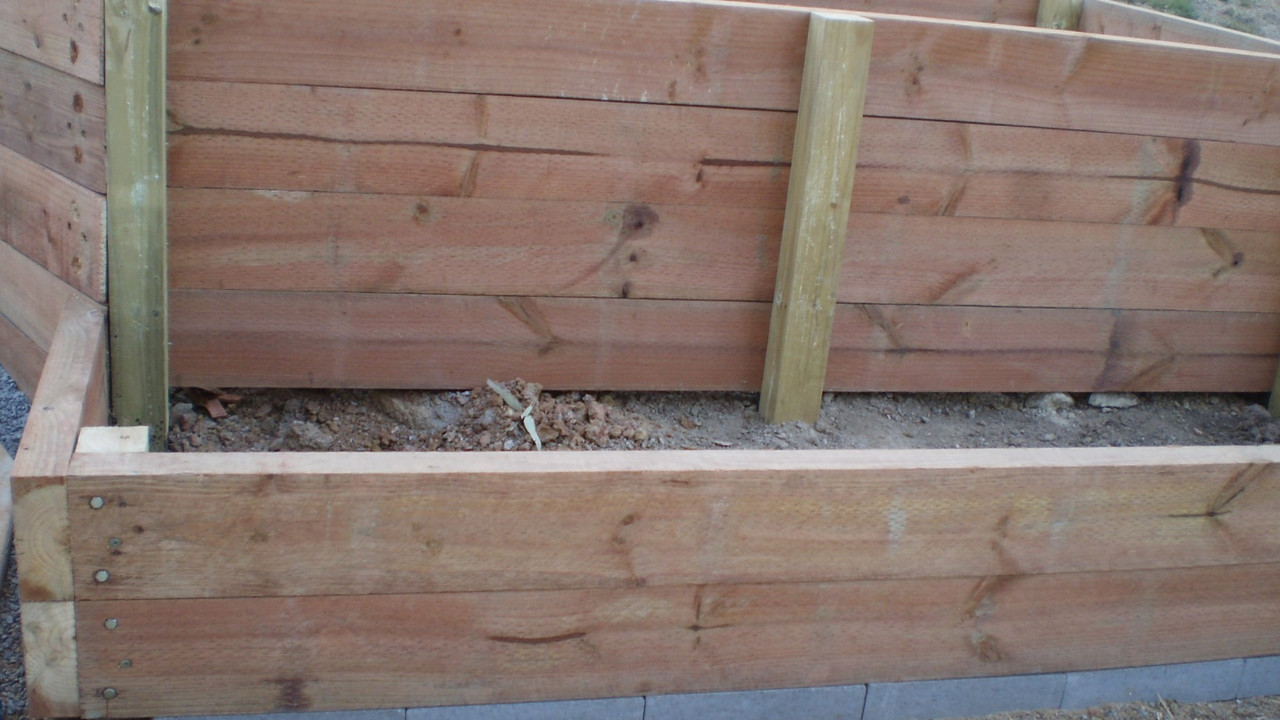 A layer if concrete pavers under the bottom sleepers to help keep it dry , driveway and slab rain runoff flows to a bluestone gravel filled drainage trough. This means the bottom sleep should literally last decades and never deterior with wet rot.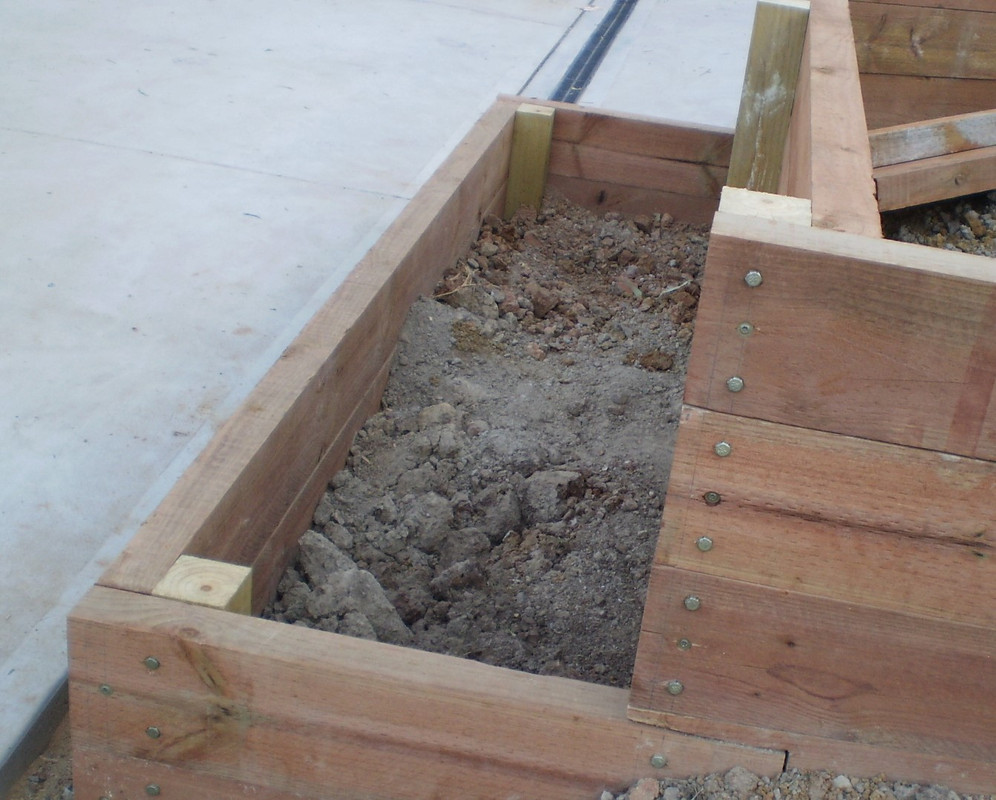 Finished ready for filling end of August.
+++++++++++++++++++++++++++++++++++++++++++++++++++++++++
Called it = old 5-7 yr old seeds were duds .
I've sowed new herb seeds, greens seeds and veg seeds in the "fallow" seed raising mix in the converted tubs .
Did find 4 or 5 tiny rosemary seedlings so left them in place and sowed new rosemary seeds around then and sprinkled a 3mm - 5mm deep topping of new seed raising mix over top , I think the little seedlings will simply push through this in a few days or so.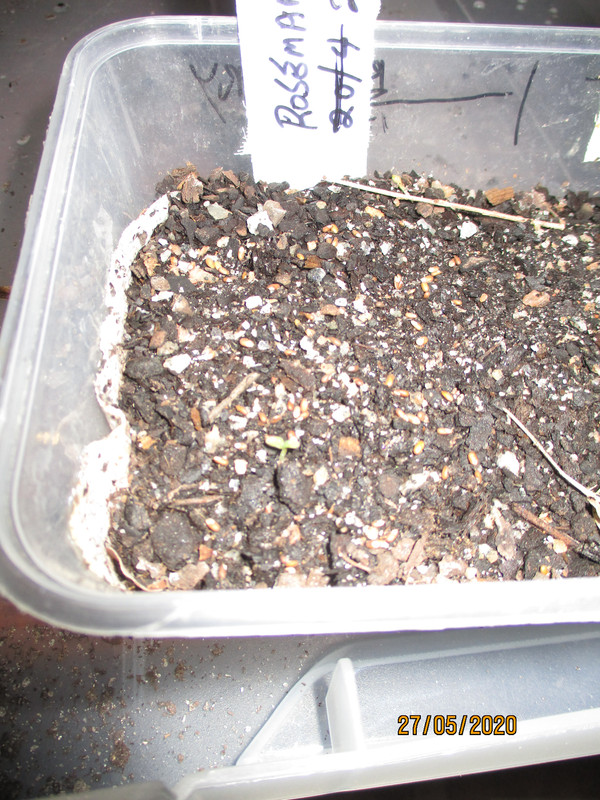 the biggest is about the size of two pinheads, the others I had to look hard to spot ( just emerging !! ).
So I've added the following TODAY :
parsley - triple curl and italian
english spinach (wife loves it)
basil - sweet
rosemary , 2 lots ( sowed one lot before I discovered I had a few baby rosemary seedlings afterall from my old seeds )
rocket
red onion
shallots - red stem and white lisbon
mustard grns ( 2nd attempt , new batch of seeds this time )
thyme ( 2nd attempt , new batch of seeds this time )
sage
and a bunch of baby carrots seeds.
So I've now got a quite a wide range of herbs and veg on the go.
[doublepost=1590607376][/doublepost]
Last edited: